UB Machine upper arm install
Robert Adams G-Parts 12" spindle kits for GM '78 to '88 G-bodies
Here are a couple of pictures of the UB Machine upper control arms and the Camaro spindle installation. Those parts were all nice and shiny when I put them in, but that was 2500 miles ago :)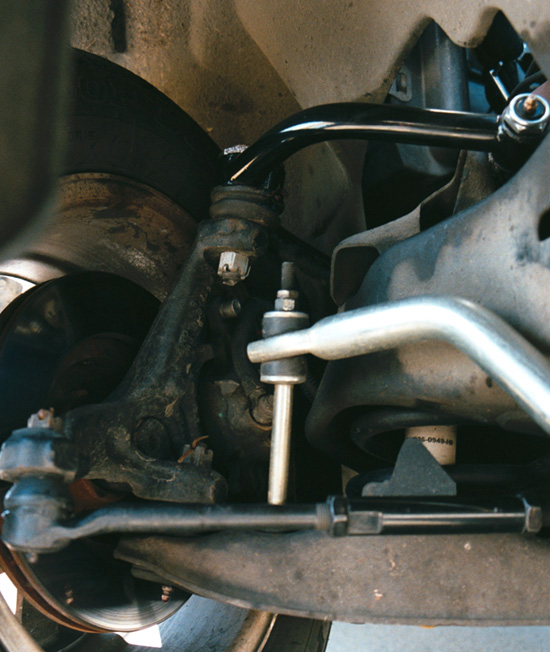 This is a view taken with my head on the concrete! You can see the tubular upper arm and the screw-in ball joint. Notice the nuts for the upper and lower ball joints are now the same size. You can also see the angle difference between the tie rod and the lower arm. Believe it or not, those tie rod ends and center link have been there since Dec. 1994 and around 200,000 miles ago. I guess it pays off to use synthetic grease! The Hotchkiss adjusters are new and make it easy to dial in the toe. Thanks, Frank T.!
The handling improvement is very impressive. The steering and response is much tighter, more responsive to driver input. I went with around 580 lb/in rate front springs and 141 lb/in rear rates. Body roll is minimal. The car is very stable, even at 100+ speeds (sshh!). If I had known it would improve this much, I would have done this mod years ago!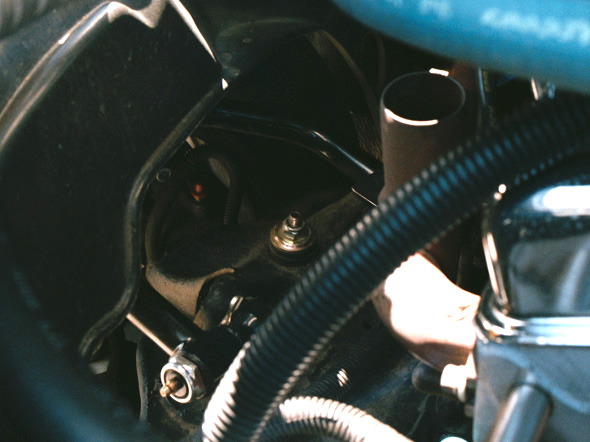 This shows a top view of the upper arm. It's hard to see in there. I put aluminum heat shields over the rear bushings on both sides. They were getting too hot to touch! Some leftover aluminum from the ECM case came in handy.
The braking with the 11" rotors is much better than the original 10.5" rotors. It doesn't seem like a big difference, but the 11" rotors have 30% more swept area each, than the smaller ones. That, is noticeable!
I made some quick brake runs with the G-Tech. Two stops showed 143 feet 60-0 and the third was 145 feet. I think I could reduce that distance with better technique. Of course, stupid me didn't see how it stopped before, but the seat of the pants meter says much better.
To buy a complete kit, including the upper arms, spindles, complete front brake system, click on this link for Robert Adams page. Great deal for the performance increase!
Robert Adams G-Parts 12" spindle kits for GM '78 to '88 G-bodies
updated 3-27-2001