Pictures of the 385 with AFR cylinder heads and the Pro Flo Injection.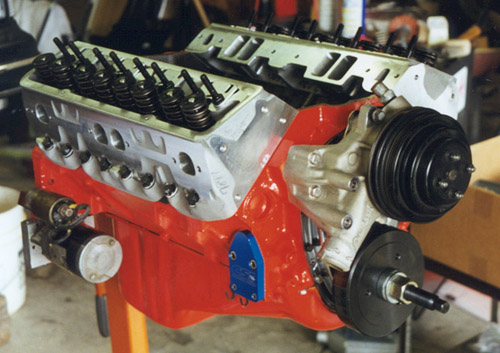 Good view of the bare heads. After researching all of the cylinder heads
on the market, I decided to go with the AFR heads. They are simply the best
you can buy for the money. The come completely CNC ported on the intakes,
chambers, and exhaust ports. Having CNC chambers means that they are all
identical in size and shape. I specified 62cc chambers to end up with 10.7:1
compression with the flat top pistons.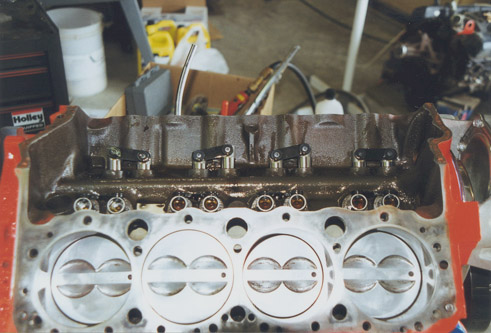 Picture of the previous 355 rebuild
Another view of the roller lifters and pistons. I love it when you drive an
engine for 140,000 miles and it looks like this on the inside! How do engines
get so dirty anyway? I haven't been able to do it yet :) The roller lifters
fit just like they are supposed to with no troubles. I would like to see what
those littlebars look like flying around at 6000 rpm! AFR makes a Rev Kit
that includes springs that mount on top of the lifters and push against the
cyl. head. This gives the valve train about another 1000 rpm capability.
I have set the rev limiter at 6000 rpm to avoid any valve float since roller
cams tend to move the lifters at a faster rate than a flat tappet cam does.
Maybe when I upgradethe short block, they will be added to have some 6500+ fun!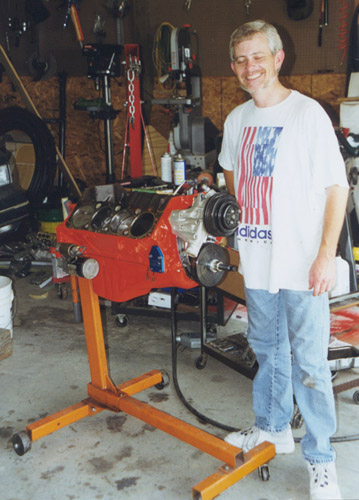 Some idjit and his engine :) "I can do this with my eyes closed!"
The hardest part of the job is keeping my buddies floor from getting
too dirty. Thanks to Rodney Unfried for his help and garage space and to
Tony Ortiz for all his help. And to Rodney's parents who were the "audience".


Click to go to the next page.

Click here to go home