Welcome to my 1987 Monte LS Pages
Sit back and enjoy some good stuff about Monte Carlos and engines.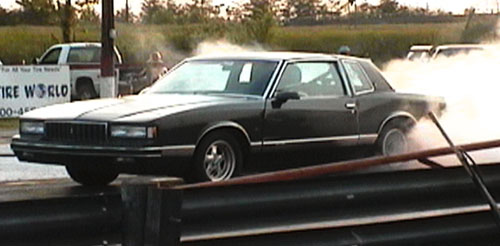 Me and my 1987 Monte Carlo LS doing a burn at the track :)
(Sitting low with drop spindles!)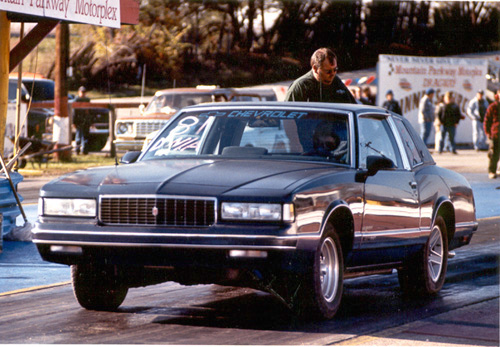 Here's what it looks like doing a 1.787 sec. 60 foot time. This is with drop spindles and stiff sway bars! The front suspension looks like it is in full droop. Click on the picture for an 800x600 version. (and no, the big guy behind the car is not pushing down on the rear! :) )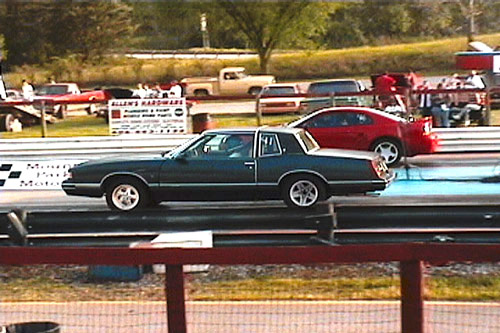 This is how to get a hole shot on a hot Cobra :) He lost, of course!
The two pictures above are stills from my Digital Camcorder (Canon ZR).
---
Steering shaft mod with Astro Van U-joint
Ride height pics of the LS with its new springs
Moog spring Charts for G-bodies and other info
UB Machine upper control Arms pics and info
Engine pics of the 385 and previous 355
Steering box details and pics of 12.7:1 constant ratio internals
Dodge Intrepid cooling fans installed in a G-body
Cool pics of a Rodneys 1970 Pontiac Catalina with Impala SS rims
List of mods I have done to the LS
Bob Morris's steering info page
Pictures from NMCOA 2000 Convention
(Thanks to Andreas and Paul C.)
Pictures of my rear seat bracing
Pics of an Autometer 2300 installed in a Monte Carl gauge panel
---